Brisbane Guitar Shop – interesting links, our friends and other items of interest!
– WARNING: Coming to this page will burn hours –
Places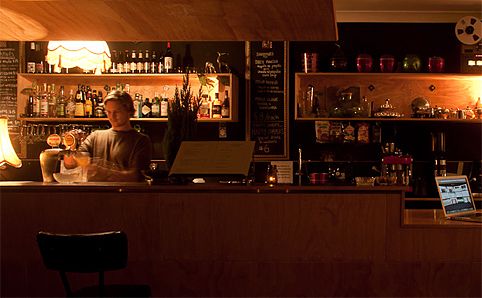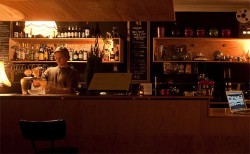 Black Bear Lodge – A great hole in the wall venue in the heart of Brisbane. Any Brisbane band worth their salt has crammed themselves onto that quaint back stage.
Junk Bar – A kooky, dimly lit, eclectic nook in Ashgrove that takes you back to the 1920's with the calm atmosphere and excellent range of cocktails and appetisers. They've also opened up the room next door and call it The Skukum Lounge where one can go to enjoy local artists doing their thang.
The Guitar Shop – Another local Brisbane guitar shop, started back in the 1990 (when it was known as Music Junction) by none other than John Davis.
Kallquist Guitars – Once a humble worker here at The Guitar Repairers and now owner, creator and luthier to the stars of Brisbane guitar shop Kallquist Guitars. His craftsmanship is second to none and each instrument is made, from scratch, to your specifications using only the finest materials.
Tym Guitars – If you've heard of us then you've heard of Tim. He's a leading authority in the Brisbane music, instrument retail, gear and amps scene and is the go to guy of many international acts that come through. Another top notch Brisbane guitar shop.
BJ Amplifiers – Try and find a better amp technician in the Brisbane/Logan area and we will tell you you're a dirty liar. And with good reason, the guys over at BJ Amps know their stuff and have been servicing the needs of local musicians for a long, long time.
Things
Lollar Pickups – Lollar pickups are simply some of the best reproductions of classic series pickups we've seen in a long time. Great attention to detail, beautifully designed and the sound… they sound incredible. We've installed them into tele's, strats, les pauls, and they've basically escalated the instrument from good to great.
Guitar Fetish – Looking for inexpensive but good quality pickups? Guitar fetish make excellent repro's of famous pickups. We've fitted a bunch of their soapbar p-90's into our yamaha-classical-turned-lapsteel conversions and they just rock.
Vintage National Guitars – Possibly the largest collection of vintage nationals in Australia
Ralee Winks – Is a Brisbane artist, illustrator, graphic designer and is responsible for those lovely diagrams in How to Change Strings. He is also responsible for the artwork for Kallquist Guitars. Talented man.
Bands
These are some of the bands that we have been lucky enough to have done work for: Screamfeeder, The Cairos, Babaganouj, The Go Violets, Jeremy Hunter, Sian Evans
Our Friends
Jackie Marshall
There's a great story linked to this tele. We finished the guitar, and it was less than three minutes after putting it out the front that Jackie walked in.
She picked the guitar up, strummed about 2 chords and she was sold. Before we knew it she pulled out her pay packet, pulled 20 bucks out for undies and gave us the rest as a deposit.
Check out her website www.jackiemarshall.com for all things Ms Marshall.
Photo courtesy of Jo Bell
---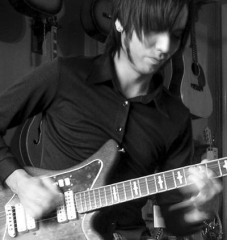 Who is that man with the perfect hair? What style, what grace, what poise!!! And where did he get those shoes? Who is that beautiful man? Meet Mickey Zee, the Rockstar with the perfect hair.
The ultimate clothes/guitar horse, this man can make anything look good. He's at the forefront of 'looking-really-good' technology, and the best bit is, he's doing it all for the kids. That's right, not a self serving bone in his body, Mickey Z is living the rock and roll dream (and looking mighty fine in spite of it) for the sake of his multitude of fans.
To give them hope and good fashion pointers in an otherwise very dark world. Mickey Z, we salute you and your silky tresses. Check out "The Peoples' Rockstar" on stage with The Summer Was Hell at a venue near you.
---
Peter Cooper has been one of our regular customers ever since he walked into the shop and fell in love.. with a 1973 telecaster.
He sat down, blew us away with his country stylings for an hour or so and then just cause he's such a top grouse bloke he even bought our guitar.
You can catch him and some outrageously loud tele / banjo / dobro playing with the Davidson Brothers Band in a town near you.
Peter Cooper with a Strat and a light beer? ..strange, he doesn't look ill..
---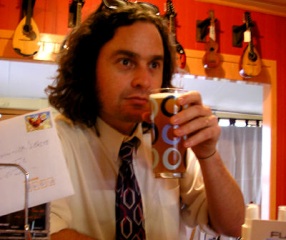 Phil Usher, dear friend of John and the boys, contemplating a hard day's work, a fantastic neck tie and an icy cold 'one'.
Check out Phil's talents on show in Grand Atlantic www.grandatlantic.org in a bar near you.
Or just come on by the shop and you might be lucky enough to catch up with the man himself.
---
Guy Pearce
We recently had the privilege of a visit from well known and praised Australian actor Guy Pearce. He was in the area preparing to begin filming for his next movie (with Sam Neil, it sounds like it'll be pretty intense, it's based on a real life murder case).
As it turns out Guy has been playing for a little while now and has recently developed a fetish for vintage axes, so he'd come to the right place. He played a bunch of the parlour guitars we'd recently restored and purchased two… and a vintage mandolin for giggles.
And if you're interested, he's no slouch; quite a tasty player. So anyways John and his new friend to the right.
---
Tim Steward
Screamfeeder
,
The Whats
or for his solo stuff,
Tim Steward
.
Tim is our friendly neighbourhood guitar roadtester/website geek. As you can see things didn't go so well with the guitar on the left, or perhaps they went very well, depending on how you look at it…
Just kidding, that was his smashing guitar that John had the pleasure of re-building on several occasions a few years ago. But it is true that Tim designed and coded this website all by his clever self.
---
Jacinta
This is Jacinta, with her brand-new-but-not-actually-brand-new-but-brand-new-to-her Hot Rodded DeArmond M75.
She looked so r 'n' r that we just had to do an inpromtue photo shoot.
Check out the Butcher Birds to see more of this lil' riff mistress and her rock and roll guitar skills.
---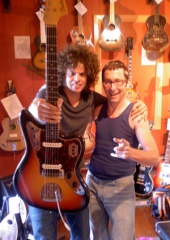 Andrew drops by our humble Brisbane guitar shop for a set-up end a little tune-up on his recently acquired 1965 Fender Jaguar.
Since his first visit we've been busy putting 2 SGs that were in 4 seperate pieces back together, one just in time to ship it off down to Sydney for Wolfmother's performance at the 2006 ARIAs. It would seem that every now and again it's an easy thing to forget to catch your airborne ax.
Not that we're complaining, we don't mind Andrew dropping in, hanging out and posing for the
odd group of fans and fellow customers.
---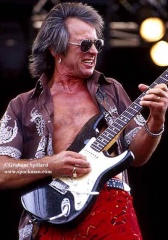 Hi there friends, John (head guitar geek) here. I wanted to write about this "special friend" myself. This is Kevin Borich or as he is more affectionately known "KB".
This man holds a very special place in my heart as i am sure he does in many of yours. My hearing has probably been damaged from all the wonderful hours i spent in the late 70's and early 80's getting my head blown off by this man's marshall 4×12″s.
Not only does Kev play like the true god of rock, he looks like one too! Many countless hours were spent in my youth bench curling weights so that I to could have the muscular, toned bisceps of my hero.
The highlight of my career as luthier was the day that Kev walked into my shop for some repair and restoration work. I suppose you can say that it doesn't get much better than that.
He has been a loyal customer and brings that "rock star" vibe and charisma in with him whenever he visits.
Now you may think I'm raving a bit and your right! Words can not actually express the influence this man had on my early playing years.
He's just come through a life threatening illness with amazing resolve and is a living example of the power of positive thinking.
This pic is post illness. I want you all bear in mind that this lad is not giving away his age to anyone, however by the looks of it he's got a few more years left in him yet! Love ya Kev!
---
Meet Tom.. and Tom. Local singer songwriter Tom Cooney (on the left) has just bought the guitar you see him playing in this photo
. Some say he sold his soul to make the last payment. Tom denies this outrageous claim.
To be totally truthful, no one ever said that until just now. Gossip mongering aside, the tone of the mid 60s Harmony restoration suits Tom's edgy, soulful sound right down to the ground.
Tom Richter is a good friend of 'The Shop', who also happens to be playing his newly aquired 70s Ibanez ES175 copy. Iss ver' nice..
The boys got together and made a little folk jam at John's urgings. Mmm.. Folk Jam..
---
The man you see in this picture holds a very unusual and rare guitar (there are only two known to exist)
.
The guitar is a 1957 SC100 small body acoustic which has a prototype neck that was later used on the '58 SG. That's only half the story!!.read on.
The guitar is also rare because it used to belong to Keith Richards!.yes THAT Keith Richards! I suppose you want to know how this crusty old bugger came to own it right?
Well Sam Cutler was the official tour manager for the Rolling Stones from 1969 to 1971. He was also the man who had to face the Hell!s Angels after the disaster that was Altamont! He later tour managed the Grateful Dead!
Wanna know more? Then read the book "You can't always get what you want" available at most discerning book sellers or go to www.Gimmecutler.com. You'll love it just like we love him.
---
So here's how it went. I'd gone home and Luke was just finishing up for the day when he got a phone call!! from here I'll leave to Mr. Preston reed to fill in the rest as per his weekly blog which you can find at www.myspace.com/prestonreed