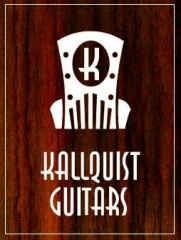 Kallquist Guitars is our very own Luke's custom instrument making business.
While utilizing contemporary ideas and methods, Kallquist Guitars maintains a focus on traditional techniques and craftsmanship to create quality instruments that we here at the Guitar Repairers believe to be the best created in Australia today.
Primarily fueled by Vintage Port and Guy Clark songs, Luke works one day a week and late into the night to craft instruments that satisfy the stringent criteria of today's build standards with the look, feel and sound of the "Classics" from yesteryear.
View his website www.kallquistguitars.com