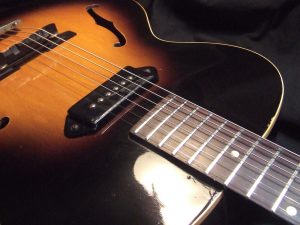 Here we have a lovely mid '50's ES125 fully set up and ready to rock… Whether it be Jazz, Fuzz or Country, this guitar has it all going on…. here's some facts
Originally purchased for Jackson's rare Guitars in the late 80's
Finish is in great condition however a re-finish may have been done at some stage.
The pots date to 10-53
The "sloped" headstock puts the age at '55 or before.
The P90 is original, however, the cover has been modified; probably as a result of the fact that many of these covers pulled away from the body owing to a lack of flexiblility… You Gibson nuts will know about this!
The serial number is unusual, if a little hard to read. From what i can make out it looks to be "SP0228" with what looks like a 4 on the end.
The bridge may or may not be original.
But with this knowledge in hand, at the end of the day this is a lovely guitar with amazing tone and playability.
$1800.00
Includes Case (non original)