This is a lovely example of a Vintage Gibson at a very, very good price. Here's what we know..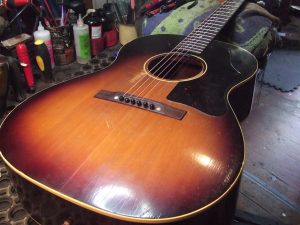 1. The serial number indicates that the guitar was built in '57
2. The headstock however is "sloped", indicating a build date of '55 or before
3. The bridge is a straight style rather that a "reverse" belly style
4. We have re fretted the guitar and set her up with 11-52 elixir strings
5. The previous owner is one Sam Cutler, Tour manager for the Rolling Stones and the Grateful Dead.
You Gibson feinds will have fun with this, although I would say (in my humble opinion) that the guitar was built in '57 using a '55 NOS neck. Whatever the case or opinion; and I'm sure there will be many; this is a lovely playing guitar with a warm tone and a lovely patina which would compliment any collection.
$2000.00
Includes Case (non original)