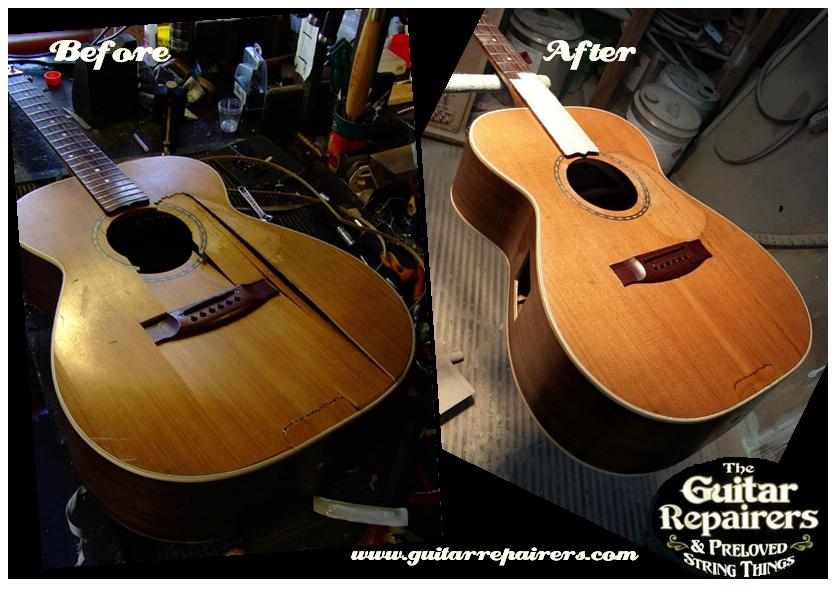 This guitar is suffering from a condition known as "man-sat-on-guitaritis" and as a result the soundboard caved in. Distraught, distressed and ready to try any new fangled, yet to be proven medically, luthiery magic in order to restore his Maton EBG808L to its former glory. Luckily for Dave, Maton repairs are somewhat of a specialty for us.
Step 1

Luckily, no new techniques needed to be implemented and we were confident in a full recovery.Involved removing the back, pushing all the caved in parts back out, removing the delaminated x braces and cleaning the underside of the soundboard.
Step 2

We kleated all the splits with spruce, note the grain direction of the spruce is across that of the soundboard. This is the only way to glue kleats as gluing them with the grain running straight will not ensure the split won't reopen over time.
Step 3


Reinforce the bridge. We routed in a recess and glued in a 1.5mm spruce spline. This will make sure the tension of the strings  won't pull the bridge back through the soundboard around those weakened corners.
Step 4
Reglue the bracings. We ended up remaking one of the spruce bracings as it was too damaged to be salvaged.
Step 5

Glue reinforcement into the endblock. One of the more severe fractures was on the soundboard around the endblock of the guitar. We glued in a maple wedge was adequately reinforced.
Step 6
Time to reglue the back. Using spool clamps we get a nice even tension while gluing the back onto the sides. We then have to reglue the old binding and bridge
Step 7

Reglue the bridge. We clean of the bottom of the bridge and soundboard to maximize gluing surface area and ensure the strongest possible bond.
Step 8

We clean up the front of the soundboard, filling any open splits and repairing the crack down by the endblock. An overspray of vintage tint nitrocellulose lacquer was given to the guitar to give it some surface protection from humidity.
Step 9
The regluing of the bridge and restoration of the soundboard naturally put the setup out of whack. Fortunately the neck only needed a light level and recrown as well as a new saddle and nut.
The Result: A happy customer re-uinted with his guitar love.