Welcome to The Guitar Repairers, Brisbane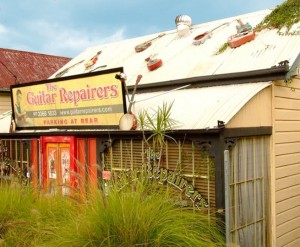 Here you will find the widest range of vintage, restored, repaired, reloved and revived stringed instruments in Brisbane.
From 1890 parlour guitars to our brand new Custom Made Guitars, we've got it all.
With 30+ years of combined experience, attention to detail, fast turnaround, and honest services, we are confident in being able to make your stringed beauty sing again.
The Guitar Repairers Brisbane shop is at 208 Musgrave Rd Red Hill 4059. Phone us on (07) 3368 1833
We have newly restored guitars for sale every week, check back regularly! Scroll down or to see the most recent guitars we have for sale, or browse instruments by category.
Don't forget to check out our FAQs for answers to common repair questions, or contact us to speak about getting your precious instrument fixed or restored today.
Check out those links to see who we are, what we do and how we do it.
May 9, 2018

Category All Instruments, Banjos | Tags: | Comments Off on c. 1920's Vega no.9 Tenor Banjo

---