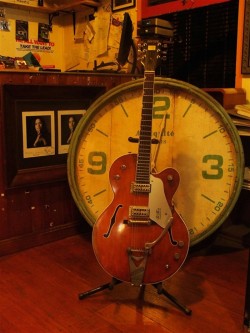 Is it just me or do old semi's have a much 'woodier' acoustic tone?
Which means of course, a much "woodier" electric tone. Everything you need is here. A slim taper neck (rare for a Gretsch) hat fits into the hand real snug and light weight to help on those long gigs. TV Jones filtertrons have been retrofitted however the original 'G' brand "hi-lo" pick ups are also included.
We recently re fretted the old girl as the previous owner had plainly loved her so much he'd flattened the old frets to the point where they were barely more the fret markers, but hey! that says a lot about just how good this geetar is… in original case.
4850.00